PC
Launch your new Steam obsession with Oddyssey: Your Space, Your Way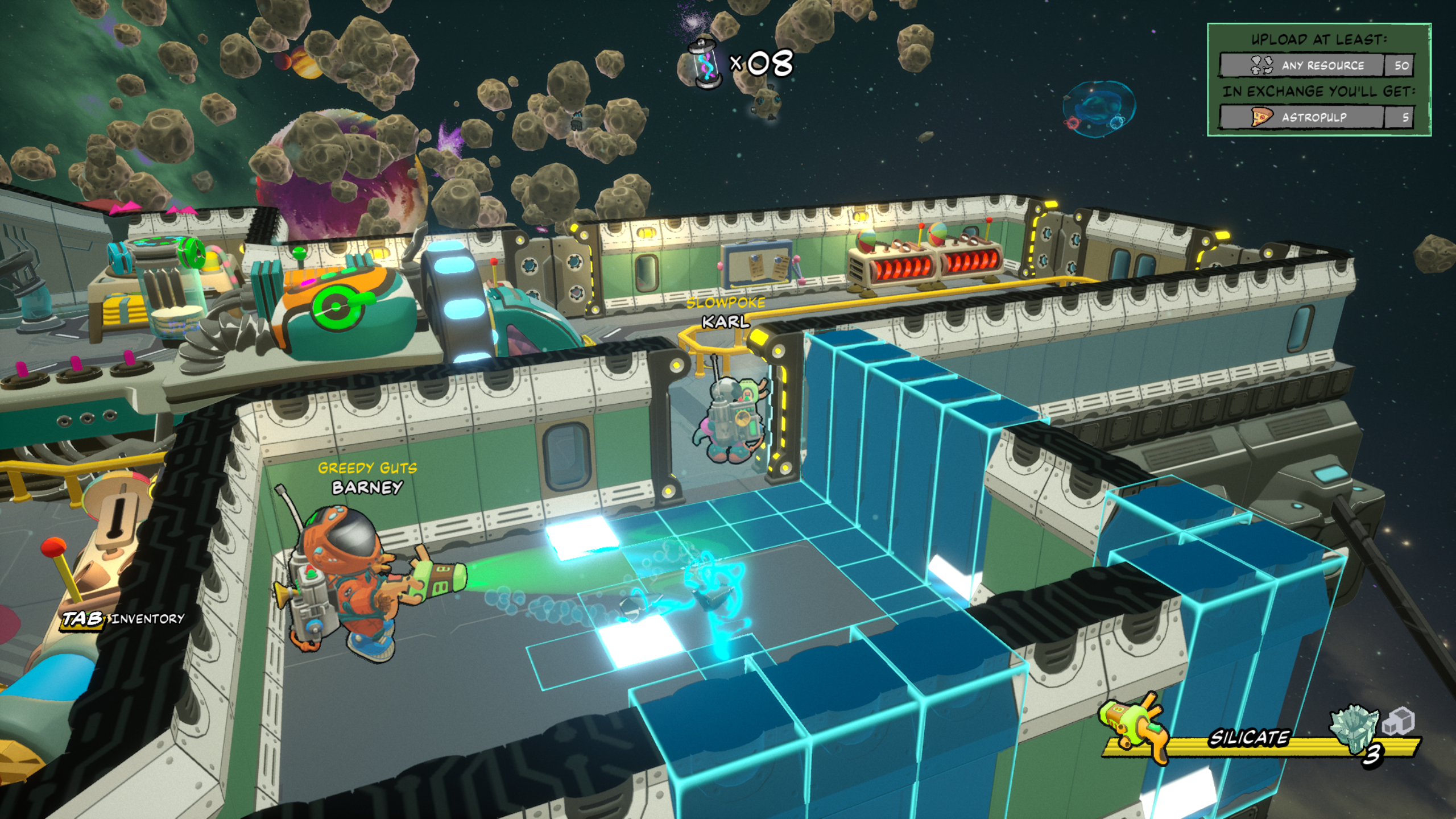 Fixing a colossal spaceship that's thousands of miles from Earth, with two million lives depending on you. Sounds like a piece of cake, right? Well, Oddyssey: Your Space, Your Way, is your chance to find out. The Early Access version of this far-out, fun-packed space sim landed on Steam on the April 25, and developer Weird Fish—an indie studio based in Warsaw and made up of a close-knit team of skilled professionals—are inviting all intrepid astro-explorers to come and test its mettle.
Slated for full release in 2024, the developers are eager to hear any feedback players have while Oddyssey is in the final leg of its creation. Since its launch in 2013, Steam Early Access has made it possible for game developers to garner crucial feedback from a variety of gamers. The resulting bug fixes and tweaks hugely benefit developers, and ultimately gamers, so don't hold back with your notes on the appropriate channels on Steam or Discord. Your opinions will be extremely beneficial in enhancing the game content, and eventually will provide everyone with a better experience!
Getting into the game, Oddyssey is a deep space adventure with high stakes and a resilient humour. The future of humanity depends on four thawed-out passengers of the ARK Mothership—a vessel launched from Earth before a devastating asteroid strike. Two million other cryostasis passengers are frozen aboard the ship that is midway through its journey, far off course and low on fuel. Players must use the awesome foursome awakened by the ARK's AI computers to build their accompanying ship and explore space, gathering enough resources to find and get to their new planetary system. 
In tandem with the stellar setting, an eclectic mix of gameplay styles makes Oddyssey a jam-packed game that truly lives up to its name. With the available game modes, players can cleave to the storyline or they can jet off and build as they please. One of the game's essential mechanics involves scouring sandbox galaxies and gathering resources from nearby asteroids. These are then used for multiple purposes such as ship building, crew survival and creating new tools and technologies. Lost alien artefacts can also be found and analysed to improve the crew's tech, sprinkling a modicum of mystery into the adventure.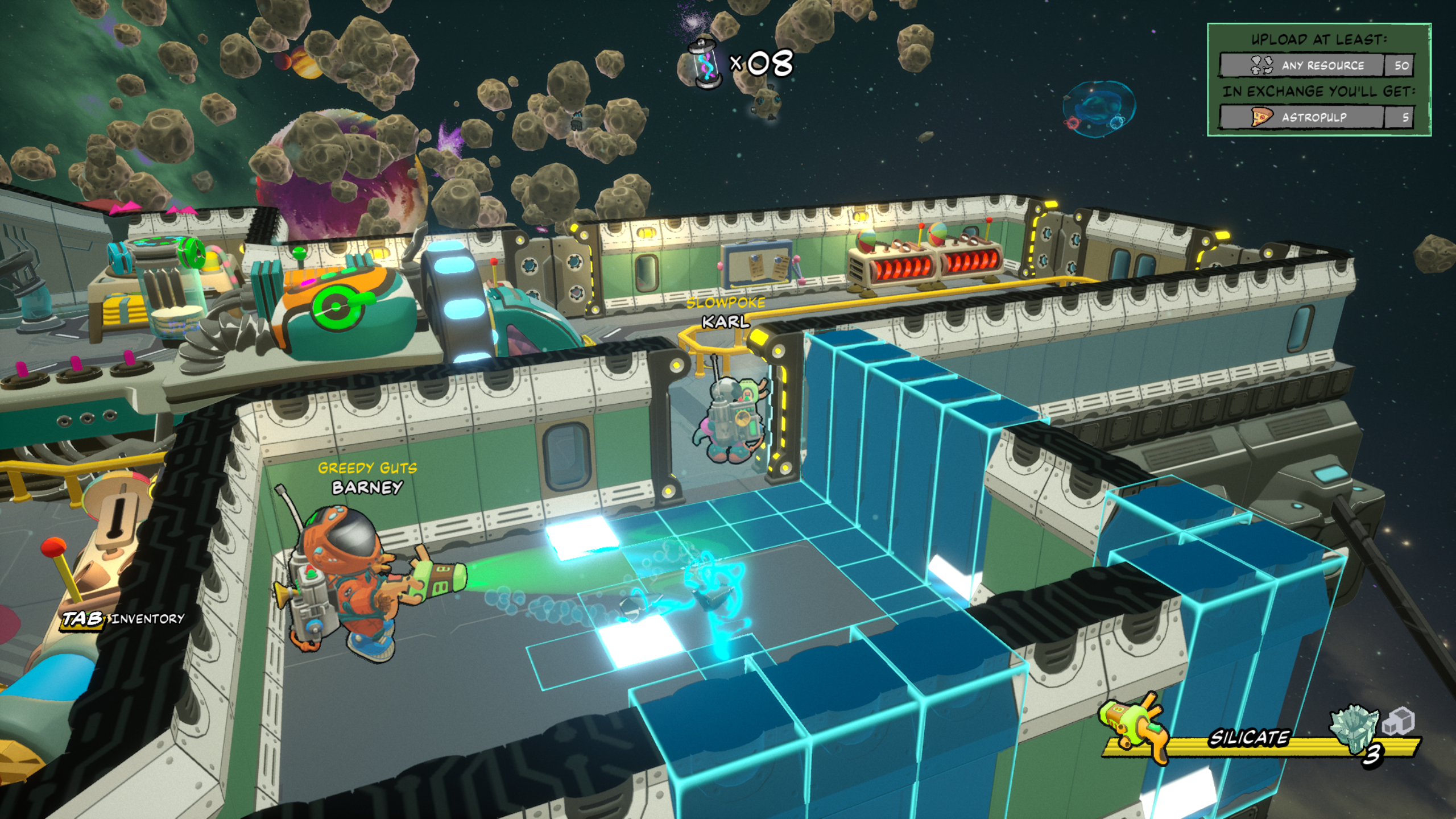 Playable character spawning brings another exciting dynamic to Oddyssey. Death is an inevitable part of the game, as many hostile conditions and creatures will be encountered along the way. However, as each playable crew member expires, they will be replaced by another human awakened from cryo on the ARK. With each passenger having their own unique traits and skills, a new dimension of play will spice up players' experience with each newcomer.
We all know teamwork makes the dream work and operating as part of an interstellar crew is no exception. Co-op gameplay with up to four total players makes light work of the many tasks that can be completed simultaneously. While a player is building a new science station their friend can be mining asteroids or improving the ship's facilities. While players can't advance in story mode when teamed up with friends, all other freeplay features, from inventing new technologies to building whole new rooms for your ship, are even more enjoyable when completed together.
Although, while the gameplay is boundlessly brilliant, the true star of Oddyssey is its aesthetic. A wonderfully nostalgic '80s and '90s theme that harks back to a heyday of vibrant visuals and science fiction fanaticism imbues every detail. The electro, chiptune-inspired music vibes will charm gamers throughout the course of the storyline and bouffant haircuts and moustaches give crew members some serious space street cred. 
Developers over at Weird Fish have also blended their love for these eras with cohesive comic book style detailing that lends itself brilliantly to the 80s oddity-oriented feel. Character names and speech text are a joy to read in their unmistakable comic font and the game graphics have a subtle cell shading that adds a distinct character to the avatars and objects. For lovers of classic sci-fi films and early galaxy-set games, Oddyssey will deliver a welcome, huge dose of nostalgia while keeping you entertained for hours with its engaging yet relaxing gameplay.
If you fancy embracing your inner astronaut then head over to Steam Early Access and download your version of Oddyssey: Your Space, Your Way. This is your chance to communicate your desires to the developers, too – so be sure to leave your thoughts on Steam or Discord.