NINTENDO
Four Games Added To Nintendo Switch Online Free Libraries – News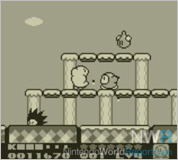 Let's face it though, you're just here for Kirby.
The basic Nintendo Switch Online libraries have received injections of new games tonight.
Two Game Boy games, alongside a Super Nintendo and an NES game, are now available via Switch Online app updates. The games are, in order of initial release:
NES: Xevious (1984/1988): Published by Namco in Japan and Bandai in the west pre-merger, Xevious is an early third party Famicom title that was one of the first great scrolling shooters in its arcade form. Notably, it was one of the first shooters to offer two "planes" of combat with both a standard gun and bombs for ground targets.
Game Boy: Burger Time Deluxe (1991): A portable version of the Data East arcade classic dealing with highly unsanitary food preparation.
Super Nintendo: Side Pocket (1993): A Data East-published pool game which was remastered from a 1987 NES game.
Game Boy: Kirby's Dream Land 2 (1995): The follow-up to the 1992 original (already available on NSO), it marks the debut of Kirby's animal friends Rick, Coo, and Kine – it's also the first game in the Dark Matter trilogy of Kirby games with Dream Land 3 and Kirby 64.