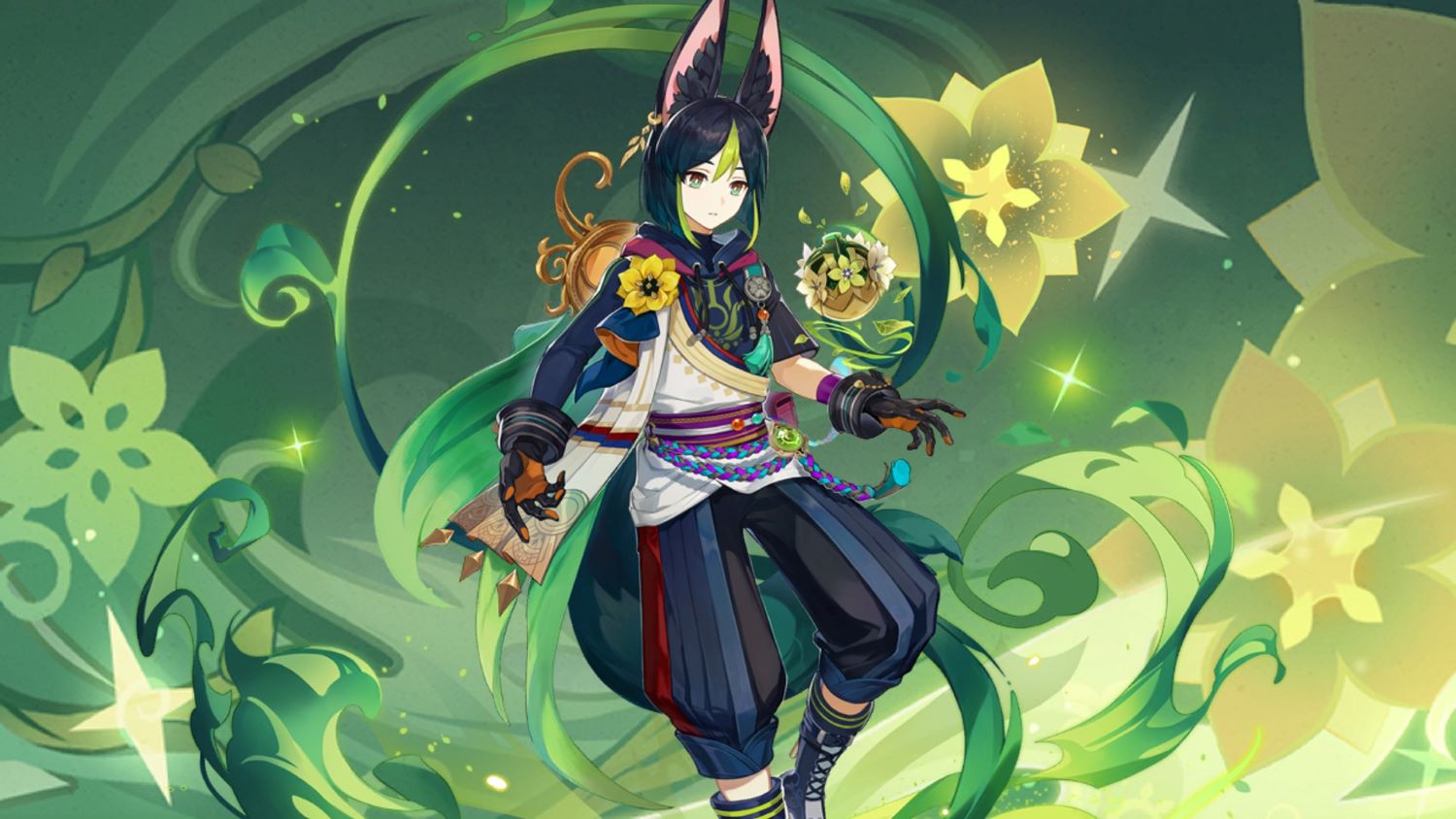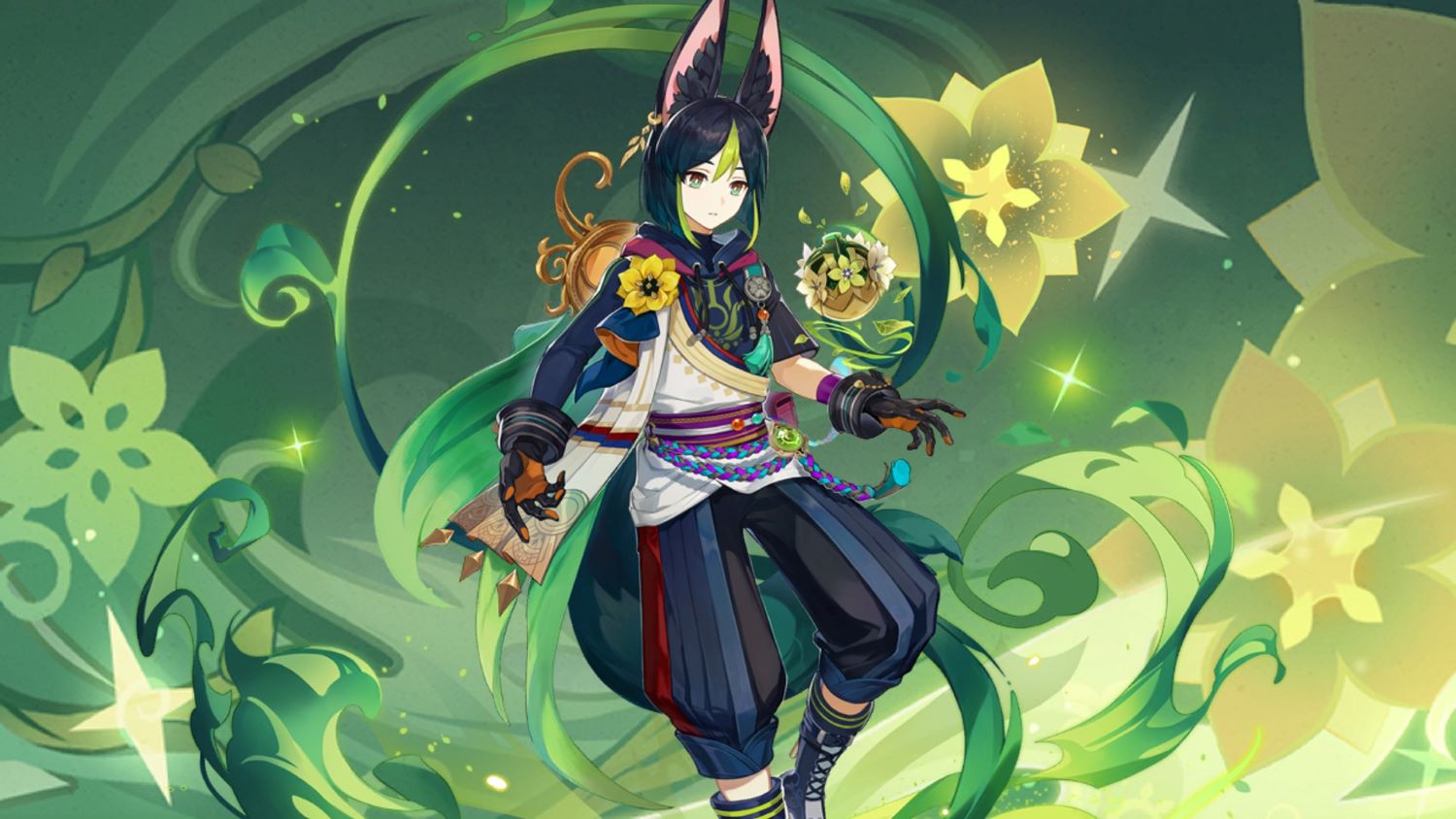 Dendro, the seventh element and vision, is finally coming to Genshin Impact. Tighnari is the first 5-star character with the element, and he's a bow user. This Tighnari Best Build Guide explains how to get Tighnari's Ascension Materials and what his best weapons are.
As with new characters, you'll need the correct ascension materials, Talent books and Artifacts to get the best use out of Tighnari. Unfortunately, since Sumeru is a brand new island coming to Genshin Impact, almost all of Tighnari's materials will come from the new island. But fear not because there are still ways you can prepare for this arrival with Artifacts and Weapons available right now.
Tighnari's Ascension Materials Level 1-90
Nagadus Emerald Sliver x 1
Nagadus Emerald Fragment x 9
Nagadus Emerald Chunk x 9
Nagadus Emerald Gemstone x 6
Majestic Hooked Beak x 46
Lunar Lotus x 168
Fungal Spores x 18
Luminescent Pollen x 30
Crystalline Cyst Dust x 36
Tighnari is looking to be a Dendro DPS Bow user. As with most bow users in Genshin Impact, most of his damage will come from his Elemental Skill and Elemental Burst and reactions with other elements. You'll want to build Tighnari with some Elemental Master in mind.
Tighnari Best Weapon
As with all new 5-Star characters, a new weapon is released that best suits that character. In this case, The Hunters Path is the new bow, perfect for Tighnari. Of course, those who can't get the Hunters Path can opt-out for two other 5-Star weapons, the Amos Bow and the Elegy for the End. If you aren't able to acquire any of the 5-Star Bows, The best 4-Star Options include The Stringless and the Viridescent Hunt
Tighnari 5-Star Weapons
Hunters Path
Gain 12% All Elemental DMG Bonus. Obtain the Tireless Hunt effect after hitting an opponent with a Charged Attack. This effect increases Charged Attack DMG by 160% of Elemental Mastery. This effect will be removed after 12 Charged Attacks or 10s. Only 1 instance of Tireless Hunt can be gained every 12s.
Amos Bow
Increases Normal and Charged Attack DMG by 12%. After a Normal or Charged Attack is fired, DMG dealt increases by a further 8% every 0.1s the arrow is in the air for up to 5 times.
Elegy for the End
A part of the "Millennial Movement" that wanders amidst the winds. Increases Elemental Mastery by 60. When the Elemental Skills or Elemental Bursts of the character wielding this weapon hit opponents, that character gains a Sigil of Remembrance. This effect can be triggered once every 0.2s and can be triggered even if said character is not on the field. When you possess 4 Sigils of Remembrance, all of them will be consumed, and all nearby party members will obtain the "Millennial Movement: Farewell Song" effect for 12s. "Millennial Movement: Farewell Song" increases Elemental Mastery by 100 and increases ATK by 20%. Once this effect is triggered, you will not gain Sigils of Remembrance for 20s. Of the many effects of the "Millennial Movement," buffs of the same type will not stack.
Tighnari 4-Star Weapons
The Stringless
Increases Elemental Skill and Elemental Burst DMG by 24%
Viridescent Hunt
Upon hit, Normal and Charged Attacks have a 50% chance to generate a Cyclone, which will continuously attract surrounding opponents, dealing 80% of ATK as DMG to these opponents every 0.5s for 4s. This effect can only occur once every 10s.
Regarding Artifacts, the two best sets for Tighnari are the 4-Piece Wonderer's Troupe or the 4-Piece Memories of the Deep Forest. You can start farming the Wonderers Troup set right now, but the Memories of the Deep Forest is a new dungeon releasing with the island of Sumeru with update 3.0
Tighnari Best Artifact Stat Priority
For secondary stats, you always want to prioritize in order Crit Rate/Damage, Elemental Mastery and ATK%:
Flower (Always HP)
Feather: (Always ATK)
Time Piece: ATK% Or Elemental Master
Goblet: Dendro Damage% or Elemental Master
Circuit: Crit Rate/Damage, Elemental Master, ATK%
Tighnari Talent Ascension Materials
Tighnari's Talent books domain will release with the Sumeru update. As of right now, there is no way to farm his talent materials, but for the future, you'll need:
New Sumeru Talent Book
Fungai Spores x 18
Luminescent Pollen x 66
Crystalline Cyst Dust x 93
Magatsu Mitake Narukami no Mikoto (Hairpin) From the Trounce Domain

End of the Oneiric Euthymia (Raiden Shogun Boss Fight)



We hope this guide helps you prepare for Tighnari's release with the Genshin Impact 3.0 Update. If you find additional builds For Tighnari, please let us know in the comments below.